When do I need a moving estimator?
You have found the perfect home. This could be across the neighborhood or across the country, but you have finally found a place for you and your family to continue making memories. Now is the time to find a mover. Don't wait! You want to give yourself enough time to do thorough research on moving companies and make sure there are no cut offs or closed off dates. When moving, people are eager to know how long the process will take and how much it is going to cost. That is why a moving estimator is so important.
What does a moving estimator look at?
First, they will look at your home size, moving details, and dates. They will conduct an in-home visit to analyze the move and talk  with you about your specific needs. An estimator takes into consideration the quantity, weight and specifications of your belongings. Do you want the moving company to pack and unpack your belongings? Do you own a lot of fragile artwork or household items? Putting these tasks in the hands of the moving company will take more off your plate. They will set a schedule with you and determine a moving date. The moving estimator will provide you a customized moving quote that meets your needs and deadline.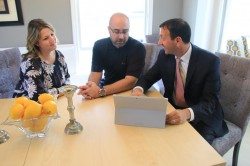 An estimator is there to tell you how much their moving services will cost, however, this is not the only expense in a move. To stay as close to the estimate given to you, disclose all items that will need to be moved. Anything that is added after the quote will cause the cost to go up. Be sure to review their estimate, read their notes in full and note the expenses not included. Look for a possible summer premium, mover's insurance, and other expenses you may not have initially been expecting.
After the moving estimator has quoted your move, a date has been set and the paperwork is completed, it is time to get moving! To receive your in-home estimate for any size move, contact Premier Relocations, one of the most reputable professional moving companies in the country.