With the right mix of experience, great employees who contribute the best of what they know and learn, and engagement from our audience, we're back with five more must-do summer moving hacks and tips. We hope you get some great use from these and encourage you to share some of your own, too!
Our Next Installment of Summer Moving Hacks
It's summer and we all have plenty we want to do, so let's make moving happen in a manageable way. Summer is a busy time for moving and a busy time in general, but everyone can reduce the frustration and challenges of summer moving with these summer moving hacks.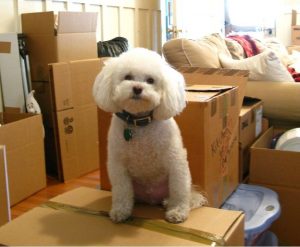 1) Give Your Pets Extra Love and Care – In our last summer moving checklist, we pointed out how important it is for everyone to keep hydrated, especially in hot weather. Our moving crews are firm believers in this, but we would be remiss to not include our four-legged friends. Hydration and other special pet-moving tips are especially important during the summer when our furry family members may also be dealing with challenging situations. Remember that, for pets, a summer move means strange sounds, new smells triggering their natural responses, the potential for loud fireworks, new routines, new neighbors, and much more. In the immediate term, be sure to keep pets cool, make things as familiar as possible (a beloved toy or blanket can go a long way), and give them extra love.
2) Remember That Summer Is Yard Sale Season – It doesn't even need to be a formal effort, especially if you live on a pretty busy street and/or have access to Craigslist: yard sale season is your friend when you need a simple and helpful piece of the summer moving hacks toolkit. Evaluate what you want to get rid of, put it together, and put it out for a yard sale. Then advertise any way that makes sense and price things to sell. Later in the  moving process, you'll be thankful you simplified when you're trying to figure out how you're going to pack certain things you're not even sure you need.
3) Be Sure to Use Quality Markers, Labels, and Tape – Few moving situations can be more frustrating than boxes that pop open and labels you can't read. When you put in the extra effort to be organized, be sure everything sticks. Literally. Commit to using quality permanent marker so summer sweat doesn't eliminate it too much, get good labels that stay attached, and keep in mind that lower quality tape, as well as improperly stored tape, will easily succumb to heat and humidity.
4) Give Full Consideration to Heat-Sensitive Items – Besides rules and regulations about moving company vehicles and services, some items should get extra protection from the heat. Many types of food are obvious no-nos, but also think about items that spray out of a can, sensitive electronics, and candles, too. Premier Relocations crews are incredibly careful with your belongings when we help you move, but we always recommend a thorough effort to protect vulnerable belongings such as these.
5) Take Special Care When Moving Food – Spoiled food isn't just gross, it can be dangerous, so this is one of the summer moving hacks that can really be a lifesaver. Certain food items just shouldn't thaw during a move and others need extra protection so they don't spoil. Start by preparing cooling packs, freezer bags with frozen water or ice cubes, and bags to carefully separate food. Match up the specifications between your fridge volume and what you need to transport food. If you think ahead so you get enough cooler space for the food and ice, you can put most food worries to rest.
Have More to Add?
Be sure to check our first blog post for more tips and, if you found this helpful, feel free to share or let us know. We hope you did! Feel free to add more tips in the comments section, too; we're happy to help share your summer moving hacks and credit you for your insights.