It's not always possible to perfectly time a move. Whether it's a new job opportunity or just the right time, moves happen throughout the year. For many, moving during the summer months is ideal for a number of reasons: the weather, kids are off school, etc. A move during the winter can be a bit tricky due to snow, wind, cold temperatures and busy schedules.
It's not impossible, though. With the right planning and tools, a move during the winter can be a breeze – albeit a chilly breeze.
 1. Don't pack your winter supplies.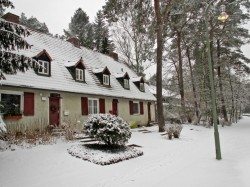 Grab your gloves, a shovel, coat, and hat. Once the packing and unpacking begins, you will be in and out of the cold air. When you arrive, you will need to shovel a clear path for unloading. Stay warm by keeping your cold weather accessories handy. You may not unpack all of your boxes right away and will need to have these things easily accessible.
2. Invest in a space heater
For most of us, winter is cold. Heating a house is a necessity for a few months of the year. Before you move, make sure all utilities are set up. However, when you first arrive, your new residence will be a little on the chilly side. You also may not want to heat the whole house if you know the doors will be open most of the day while bringing in packed belongings. An easy solution for this is to use a couple space heaters. These small heaters will help the individual rooms you are working in stay warm.
3. Hire professional movers
This is probably the best time to utilize a moving company. You can have the experts pack up your belongings, load them up and transport them safely through the winter conditions. They also are then able to unload everything at your new residence, making the process seamless, timely and a lot warmer for you. Professional movers also are sure to clean up after themselves, an extra task that you do not have to worry about.
Are you moving during the winter?
Here at Premier Relocations, we want your move to go as smoothly as possible. From start to finish, our goal is to get you packed, moved and unpacked – incident free. To learn more about how professional movers can assist your winter move, contact us. We have years of experience in moving families – wherever they are headed, no matter the weather.