Moving to a new community can be tough transition for families. If you are relocating to a new city for a job opportunity or resettling after retirement, it can be difficult to settle in to a new home town.
A new community may feel intimidating, as you and your family explore new schools, shops and places to spend your free time.
Follow these four moving tips to make the transition easier when moving to a new community.
1. Howdy, Neighbor.
Gathering the family and approaching your new neighbors can be awkward a bit frightening. Trying to strike a conversation in passing, introducing yourself and your family members. This shows you are friendly and open to casual conversations. If you don't see them outside, make the first move and head over to their house. This shows you are interested in being pleasant neighbors.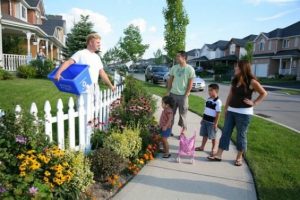 Your neighbors may also be a great resource. They most likely know the town fairly well, and can fill you in on tips that you may not know otherwise. If you have children, your neighbors may also have kids the same age – allowing your kids to have friends right off the bat.
2. Get outside.
Whether you take a stroll through the downtown area, or head to the park, getting outside and familiarizing yourself with the community can allow you to figure out what your new city will be like. You never know, you may bump into a kind stranger who can help in your transition introduce you to the best coffee shop or find a new favorite park for the kids.
3. Don't be shy.
In your new office, in the hallway of your children's new school, or out running errands – don't be afraid to introduce yourself. Doing this opens the door for new friendships to form. Check out local resources such as schools, parks and recreation departments, sports organization and your neighbors to find ways to get involved. This can be the most difficult part of moving to a new community, but will become easier as you become more comfortable in your new home.
4. Hop in the car.
Another one of the hard parts of adjusting to a new community is the feeling of unfamiliarity – especially for children. Driving through the community and the surrounding neighborhoods helps everyone feel more comfortable with where they are at. Getting used to the sites of a city can help ease nerves that occur during this transition. Download one of these apps to find things to see in your community. Be a tourist!
It may take some time, but soon your new community will become more familiar. Be patient and proactive, and you feel right at home.
Happy Moving!