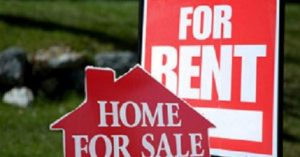 When your current home no longer meets your needs and you find a new home, the most obvious option is to sell your old home.  But in some cases, turning it into a rental home might make more sense. Are you better off keeping your old place as a rental, or does selling it make more sense?
There are a lot of factors to consider when deciding if renting or selling your home is the better option.
Your Financial Situation:  Becoming a landlord brings added expense that you need to consider. Your insurance costs may increase, as rental homes may cost more to insure. This applies to taxes, as well. Many states have tax rules that favor owners who live in their homes, these tax breaks don't apply to investment property.  Cleaning, care and maintenance costs must be considered, too.
Local Market Conditions for Rental Homes: You need to consider whether the city where your home is located can generate a profit in renting. The need for rental properties is higher in cities where affordable housing is needed or a large concentration of jobs is being offered. See this list for the best cities for rental properties.
Your Future Plans: Maybe you have been transferred and think you may come back to the area? It may be cheaper to rent your house and move back in when you return, rather than paying sales commissions to sell your current home and purchase of another one when you get back.
Your Tolerance for Being a Landlord: Being a landlord takes good communication skills, tolerance and flexibility. Not everyone is going to be a good tenant. With that in mind, landlords must have a thick skin and a level head.
Current and Projected Home Prices: Consider how much you would profit if you sold the property today. If you would make little or nothing, it may make sense to hold onto the property, waiting for the market to improve over time. This is especially true if the property will provide positive cash flow in the meantime.
When it comes to renting or selling your home, there is no right or wrong answer. Once you understand the options, you can make the best choice for your situation. Whatever choice you make, when it comes time to relocate, Premier Relocations can help. Call us today for your free moving estimate.