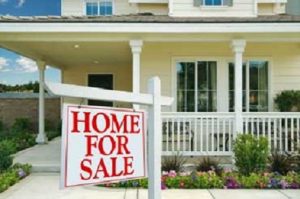 First impressions matter, especially if you are trying to sell your home.  Adding curb appeal to your house not only makes it easier to sell, but it also gives your house that nice and finished look which you can take pride in. There are a lot of small and inexpensive changes you can make to improve your home's appearance.
We have put together some quick ways to get instant curb appeal that won't blow your budget
1.Paint your front door, trim and shutters. This is an easy update to make and you can pick up a gallon of paint for around $30.00. Bold and bright colors will definitely make your home stand out. Be sure to match your new paint color to the rest of your house.
2. Plant a tree and/or flowers. Planting a tree and flowers is probably the quickest and cheapest way to add visual appeal to your house. Before you plant a tree, consider how big the tree will get and how it will affect the landscaping of your house.
3. Update outdoor lighting. Outdoor lighting can really change the look of your home. There are a lot of inexpensive options to be found, just make sure you find some with the same mounting system as the current lights.
4. Update old house numbers. Purchase new attractive house numbers, if the existing ones are old or faded. Try to match your new house numbers with the finish that is on your exterior light fixtures
5. Makeover your mailbox. Mailboxes should complement the home. Dress up mail boxes for curb appeal by painting the wooden post to match the house's exterior color, or by surrounding it with flowers.
6. Decorate your front porch or doorway. Add curb appeal to your home by showcasing your unique style to your front entry.  Whether you place a wreath on the door or a porch swing, make your guests feel welcome and your home inviting.
These ideas will give your home a fresh new look and add instant curb appeal, all while sticking to your budget! When your house is sold and you are ready to start the moving process, make sure to contact us for your free estimate. Around the block or across the country, you will receive quality service from Premier Relocations.