When is the last time you didn't look online for reviews before trying a new restaurant or purchasing a new product? Long gone are the days where we purchase a new product or service solely on brand trust. Why not do the same before choosing a moving company? Sites such as Angie's List, The Better Business Bureau, and AMSA (American Moving & Storage Association) can be very helpful in making the right choice when picking a moving company. When you use these online resources, you can trust you made the right choice hiring Premier Relocations for your move.

Angie's List
Angie's List helps facilitate transactions between more than three million consumers nationwide and its collection of highly rated service providers in more than 720 categories of service, ranging from home improvement to health care. Built on a foundation of more than 10 million verified reviews of local service, Angie's List connects consumers directly to its online marketplace of services from member-reviewed providers, and offers unique tools and support designed to improve the local service experience for both consumers and service professionals.
Premier Relocations has earned Angie's List Super Service Award, reflecting an exemplary year of service provided to members of the local services marketplace and consumer review sites for the past three years! Angie's List Super Service Award winners have met strict eligibility requirements, which include an "A" rating in overall grade, recent grade, and review period grade. The company must be in good standing with Angie's List, pass a background check and abide by Angie's List operational guidelines. Read more about this award here and here.

Better Business Bureau
For more than 100 years, Better Business Bureau has been helping people find businesses, brands and charities they can trust. In 2015, people turned to BBB more than 172 million times for BBB Business Profiles on more than 5.3 million businesses, all available for free at bbb.org.
Premier Relocations is an accredited business with the BBB and has earned an A+ rating with BBB. This rating is based on several different factors – business's complaint history with BBB, Time in business, Transparent Business Practices and many more.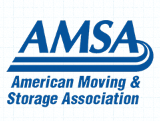 AMSA (American Moving & Storage Association)
The American Moving & Storage Association launched a consumer protection and certification program called ProMover on January 1, 2009. This initiative is designed to fight imposters, known within the industry as "rogue operators," by giving consumers an easy way to separate reputable, professional movers from those that are not. The ProMover program takes the worry and the hassle out of moving by helping consumers identify quality professional movers who subscribe to our goals and by providing them with information and assistance with everything from finding a mover, to getting an estimate and packing tips, to understanding valuation and insurance.
Premier Relocations is a ProMover registered with the AMSA. To qualify for this certification, Premier must adhere to strict guidelines. These guidelines include being licensed and Insured, compliant with federal regulations, maintain acceptable BBB ratings, vetted and certified by AMSA and abide by ethical business practices.
At Premier Relocations, we pride ourselves in being the moving company that you can trust for prompt and reliable service. These online resources will give you confidence knowing you made the right decision when partnering with Premier. Contact us today to start a conversation – we can get you moving in the right direction with a highly rated and trusted mover.