Have a move planned and worried about how you are going to get everything done? Unfortunately, most people have to squeeze a move in around a couple days off work or during a weekend. Let's face it, that is not enough time to get everything accomplished that you want to. We have the perfect solution for you! Our parent company offers convenience services! Don't have time to clean your old house prior to moving out? Don't want to mess with assembling your computer network at the new home? No worries, we have you covered.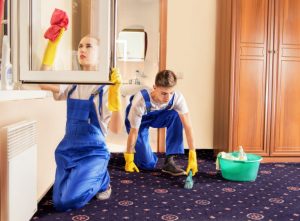 Learn More About our Convenience Services through Mayflower:
Home Electronics Disassembly/Assembly
Wires and plugs everywhere – who knows what plugs in where?! Don't know how to set up your computer network or new home theater system? We can arrange for a team of experts to help with your computer network or home theater system. Get help disconnecting or reconnecting your personal computer and wireless network and you'll be back online before you know it. Or, add service to disassemble or set up your wall or stand mount entertainment system, and you won't miss a minute of your favorite shows.
Move-Out/Move-In Cleaning Service
When you are moving, you want to get into your new home and get settled as soon as possible. Who wants to take the time to clean your old home before you move out? In turn, who wants to move into a new home and take the time to have to clean it before unpacking your belongings? If you are in this predicament, we have a solution! Let our maid service clean for you. Maid services can help clean your old home or get your new house spotless. You'll get a team of insured professionals who use green cleaning products and professional vacuums with HEPA filters that trap 99% of dust, allergens and pollutants. The Maids provide a 100% Satisfaction Guarantee.
Destination Debris Pickup
You are finally in your new home and have unpacked all the boxes. Unfortunately, you are now left with a room or garage full of empty boxes and packing materials. What are you going to do with all of that? Call us! We can pick up the empty boxes and extra materials and dispose or recycle them for you. That way, they aren't taking up space or attracting unwanted attention at the curb.
Let us help make your move a bit easier by handling some details and allow you to get settled into your new home sooner! Mayflower even has services packages that let you bundle and save on the extras you choose. Read more about these great convenience services through Mayflower here!