By D. Kay Reeser, CMC
kreeser@premier-mayflower.com
Congratulations to the champions of the 2017 National Football League season. This annual winter finale of football brings to mind the time another winning team, the Baltimore Colts, ran their own trick play one cold, dark, snowy night, and used Mayflower Transit to sail their entire team across the goal line of a new hometown. Attorney Michael Chernoff helped negotiate the transfer and relocation of this famous football franchise to the city of Indianapolis, working on behalf of many key players, including the Colt's former owner, Robert Irsay, and former Indianapolis mayor, William Hudnut.
During this same period-of-time, Les Biegel, general manager for the moving company, Premier Relocations, was growing up in the small town of Glencoe, Illinois, about 25 miles north of Chicago. Biegel enjoyed spending time with other youth in his town and especially remembers one friend and classmate whose last name was Chernoff. Following high school, Biegel lost track of many friends when he settled down in the Wolverine state, graduated from Eastern Michigan University, and later accepted the position with Premier, an agent for Mayflower Transit. One day while doing online research for the company, Biegel came across an article published in USA TODAY, about a legendary move his corporate office coordinated three decades earlier.
"It just happens that I was reading a story about Mayflower moving the Colts," Biegel said. "And there was my former friend's name, and our hometown of Glencoe, and I started to put it together. I haven't talked to him in more than 20 years, but I think his grandfather may be Michael Chernoff."
The Night Mayflower Transit Sailed Into Sports History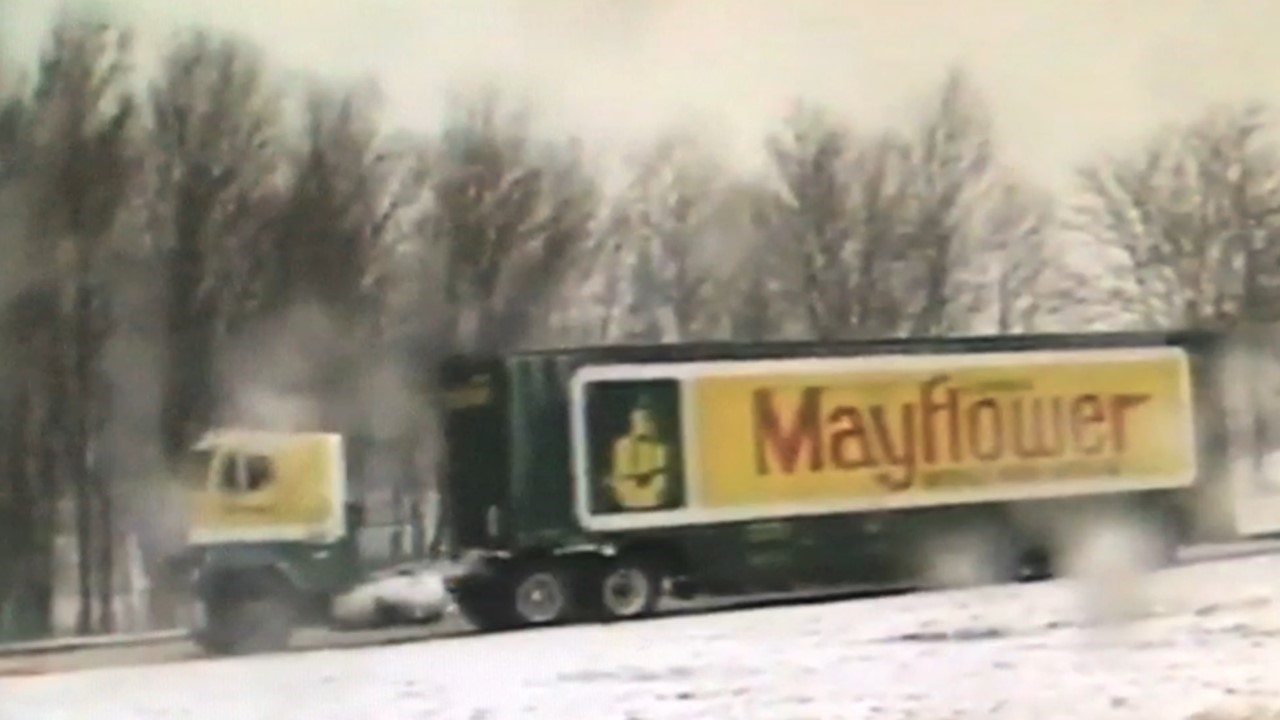 So how did a major football franchise, a lawyer and a mayor successfully organize a 600-mile relocation? And how did more than 40 packers and loaders – sworn to secrecy, a fleet of at least a dozen drivers and moving vans fully loaded with business records, office furniture, training equipment, uniforms and trophies, quietly drive away from Maryland in the middle of the night?
As it turns out, Mayor Hudnut had a friend named Johnny B. Smith who, at that time, just happened to be the chairman and CEO of Mayflower Transit. More importantly, not only were Hudnut and Smith good friends, they were also neighbors – next door neighbors. Rumor has it they nervously waited together, at least part of the time, while the moving vans separately made their way to the team's new headquarters. And when the trucks began pulling into the parking lot of Fall Creek Elementary School on March 30, 1984, Hudnut was there to greet the crews and help unload the equipment.
The Mayflower Transit Company was founded in Indianapolis in 1927, as a solution to customers gaining interest in traveling across our country's modern paved highways, versus the alternative of transporting their goods on existing rail systems. Since that time, Mayflower has grown into a network of more than 225 full-service moving agents across the United States, with international affiliates across the globe. The famous green and white moving vans, with the iconic vessel sailing on each side, are the most recognizable on the road today. And while most relocations drive away with less controversy than the Colts' legendary interstate move, if you happen to be reviewing professional companies for an upcoming move, just remember that sometimes you only need to look as far as your own front yard. Some of the best referrals come from our good friends and neighbors.
_____
Premier Relocations has a qualified team of moving professionals prepared to help you make your way to your new hometown. The company is one of the largest Mayflower Transit agents in the United States, is based in Novi and Grand Rapids, Michigan, and provides a full range of professional moving services to residential, commercial and corporate account customers. Relocations include local, intrastate and interstate, with secured warehouse facilities available for both short- and long-term storage.
Premier is licensed and insured, maintains an A+ rating with the Better Business Bureau, and has earned ProMover and Michigan ProMover certification through the American Moving and Storage Association (AMSA). The company annually earns the 'Super Service Award' through Angie's List, for customer satisfaction surveys ranked in the top five percent.
Call Premier Relocations at:
800-863-5161
or request your
Free Estimate for Moving
on our website today!