At Premier Relocations, we like to make the idea of moving fun for you. And with so much pride in serving as a Mayflower Agent for all your moving needs, we took one part oblong pumpkin, five parts of team creativity, and a little chunk of time to find a creative way to let it show.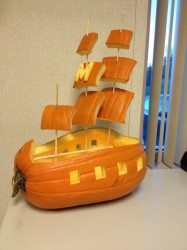 Since we can put as much fun and energy into our festive display, you can be sure that we'll carve out just the right amount of time for your move. You deserve it. It's your day for new opportunities and alleviating the stress of moving and we'll take on the job as only a Mayflower Agent can. Additionally, Premier Relocations wants you to know that you never have to ask "Trick or Treat?" because you can be confident that our moving services provide both quality and a sweet deal.
When we show up for the big move, we may be sporting uniforms and, although they aren't really costumes, you will immediately be able to identify who we are. That big rumbling monster outside with the green on it? That's just our truck. And when we finish up, we may even use a broom, but it's only for cleaning up after ourselves. That's the way of a Mayflower Agent – nothing scary about it.
All in all, there are many moving companies out there and only a special group who are able to call themselves a Mayflower Agent. We pride ourselves on being the best in the patch, so to speak, and we don't want you to pick the wrong company as it can cause quite a fright.
So now that we've had a little fun with the Halloween theme, in both our words and handiwork with a pumpkin, we invite you to try your hand at showing off how you got creative with your pumpkin and share it with us via social media (Feel free to send it to us via Twitter, Facebook, or Google Plus).
As always, from all of us at Premier Relocations and the Mayflower Agent family: have a safe and very happy Halloween!