If you let the holiday spirit catch you, you may be feeling extra generous. And if you've had it with clutter or are just feeling the need to simplify, you may just consider making donations now as it will mean easier moving later. Here is our top 10 list of reasons why it's good to donate if you think you are going to move anytime in the near future (and, of course, it's good to donate even if you don't see yourself moving soon, too).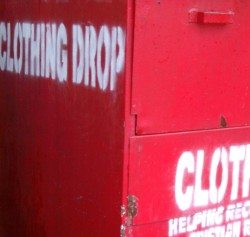 10. Easier cleaning. It's easier to dust, easier to vacuum, and easier to go about your day when you have a nicely decluttered home. A cleaned home can lead to easier selling. Easier selling can lead to easier moving.
9. More space. Both for you and because decluttering your home is a part of recognized home-selling best practices.
8. Easier space management later. Especially if you will be moving soon to a new home, you can start with a cleaner slate and a better opportunity to figure out how the new home will be decorated if you simplify first.  
7. Less to box up later. Knowing where to start can be the hardest part of moving, but you'll quickly find a point when you are tired of moving and packing, so give yourself a head-start.
6. Less to inventory. The less there is to inventory and be concerned when working down your moving checklist, the better.
5. Rediscover items you may want to sell. While decluttering and donating, you may also rediscover items you'd want to sell or give to family members. Decluttering can be a prime time to organizing items you can part with for money.
4. Tax write-offs. Always be cognizant of the rules and regulations before making this a motivator, but we're sure you could find good uses for the money you may save with charitable donation write-offs.
3. Giving something a good home. Sometimes you accumulate too many of something just because you upgrade. There's nothing wrong with upgrading, but just picture how great it would be to donate that extra set of gloves or something else that could make a difference to someone who is in need.
2. Earn money for others. Places like Goodwill, Salvation Army, and local charity sales earn money for great causes by selling donated items. You can help them and help yourself. 
1. Declutter your mind. It may sound a little silly perhaps, but studies show that decluttered homes lead to decluttered minds, among many other lifestyle benefits. 
More Ways to Have Easier Moving
Make it easier and make it smarter: check out our other tips to help with easier moving. Check out tips on how to declutter, too, so you can go at it with the best expectations and game plan possible.