We aimed high with our goal, and although we didn't quite make it, we are glad to say that this year's Thanksgiving on the Mayflower was another success because it helped people who needed it.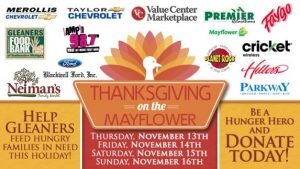 In total, Thanksgiving on the Mayflower raised the equivalent of about 9,300 pounds of food for families in need around our communities. We couldn't have done it without all of our outstanding partners and participants, who, along with our staff, collected, contributed, and transported donations. Many of the days started with getting a truck on site at 5 a.m. and didn't end until 7 p.m., but getting up early, moving boxes, and hauling important goods is natural to us. It was all worth it to raise awareness and gather up resources to be used by Gleaners Food Bank of Southeastern Michigan.
"We all know what Gleaners does around Metro Detroit. We do multiple charities with them, but this one seemed special. With so many families in need this time of year, we felt like it was our obligation to be part of helping everybody out."
That quote was captured by AMP Radio on 98.7 FM when they interviewed Premier Relocations' Assistant General Manager Les Biegel at Value Center Market. It perfectly represents why we committed to doing our part for Thanksgiving on the Mayflower and many other causes throughout the year.
At Premier Relocations, we're never afraid of doing some heavy lifting to go above and beyond for our community and our customers. This year, we're glad to have connected with so many new partners, especially as Thanksgiving on the Mayflower has now expanded to Eastpointe and Taylor. Where it will go next year, nobody knows, but we appreciate how the community realizes that it costs almost nothing to get involved and that they step up to contribute.
Thanksgiving on the Mayflower Photos
For pictures of the Thanksgiving on the Mayflower event — we'll be uploading and sharing more as we come across them — check out our Facebook page.