You and your family have just made the move to Grand Rapids. Now lies the question, where should you go to introduce your family to the West Michigan area? After you have unpacked and settled-in, check out these four places to help you and your family fall in love with your new city.
1. Frederik Meijer Gardens and Sculpture Park
Open year round, Frederik Meijer Gardens is a great place to bring the whole family. For kids, check out the Lena Meijer Children's Garden to see the Treehouse Village, Kid-Sense Garden, Rock Quarry, and Great Lakes Garden. For an extra bonus, have the children acknowledge where on the "mitten" they now live.
For adults, take yourself on a quick excursion through the Tropical Conservatory and see more than 500 species from five continents. Journey to Japan and gaze The Richard & Helen DeVos Japanese Garden – radiating tranquility, simplicity, and beauty. Be sure to catch a concert at the Amphitheater Garden during the warm summer months.
2. The Grand Rapids Art Scene
The art scene in Grand Rapids is nothing short of spectacular. Not only is there an independent scene from emerging artists at Kendall College for Art and Design, but there is a place for people of all ages to appreciate art in the Grand Rapids area. After your move to Grand Rapids, explore the Grand Rapids Art Museum or the Urban Institute for Contemporary Arts to get a glimpse of Grand Rapids' finest art. ArtPrize, the biggest event in the Grand Rapids art scene, and the city overall, is an annual, multi-week event that features over 1,000 works of art across three square miles of downtown Grand Rapids.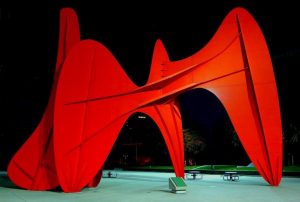 3. Sports Entertainment
The Grand Rapids sporting world provides entertainment for every kind sports lover. Enjoy the thrill of a Grand Rapids Griffins hockey game at the VanAndel Arena, a Grand Rapids Drive basketball game at the DeltaPlex Arena, a West Michigan Whitecaps baseball game at Fifth-Third Ball Park, and the last addition: a Grand Rapids FC soccer game at Houseman Field. Any season, and every sport – Grand Rapids has you covered.
4. The Grand Outdoors
Moving to Grand Rapids puts you in a vibrant city that is growing quickly – large universities are expanding, new businesses are under construction, and housing options are available throughout the city. However, this does not mean you are secluded from nature. Keep heading west across the state, and you will arrive at the beautiful beaches of Lake Michigan. Rent a paddle board for the day,  relax in the sand, or find a path to hike. For a day of nature right in Grand Rapids, check out the Blanford Nature Center. West Michigan is truly the best of both worlds.
A move to Grand Rapids puts you near a lot of exciting attractions, enjoyable for any member of the family. No matter their interests, there is something here for everyone.  Still planning your move? Let us know, and we can get you moved, settled-in, and out exploring the wonderful city of Grand Rapids.