It's a tale as old as time – you're getting ready to move to a new home and the moment of truth comes. Do you ask your friends to spend their Saturday helping you lug all your heavy belongings across town in return for some pizza or do you hire professionals?
Now, you may want to jump out with your answer – it isn't like you hang out with Jake because of his endlessly dull diatribes about Star Wars – but before you do, we want you to take a moment and think about these 10 reasons why hiring professional movers is always a better choice…
Professionals Show Up On Time
It's Saturday and six of your friends all agreed to help you move. They all agreed to show up at 10 am but here it is 10:30 and only Shyanne is at your place. By 11:30 you four more pals have shown up, but Rudy called and it turns out he can't make it – he got last minute tickets to the game and couldn't turn it down.
When you hire a professional moving company, they show up on time and with the right amount of bodies to get the job done.
Professionals Know What They're Doing
Nothing against your pals, but would you want them to perform a root canal on you? Maybe if one of your friends is a dentist you'd be cool with it, but Sally who works at the bank should probably put the drill down.
Like your teeth, your belongings are important to you and replacing them can be a real hassle. Professional movers will use their expertise to ensure that your furniture is moved with the utmost care. Sure, Sally means well, but she hasn't spent years learning how to best pack a truck for an efficient and low-stress move.
Professionals Have the Tools
Anthony has an amazing array of tools for his grill, but his moving blanket collection is shockingly sparse. Don't even get us started on his dolly – he doesn't have one! When you hire a professional team like Premier, we come with all the tools of the trade. Along with moving blankets, we have the right equipment to disassemble that bed frame and a dolly that can get your couch out of the basement without damaging the walls. We'll even bring extra boxes for random odds and ends and shrink wrap to safely cover that mirror your grandmother brought back from overseas.
Professionals Work Faster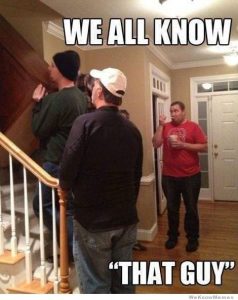 Brian is more than happy to help, but he'll be stopping every few minutes for a beer. Shyanne showed up on time, but she has to leave early to pick up her brother at the airport. The Callans are here as promised, but they brought their five-year-old along and Jimmy wants chips and an iPad.
With professionals, their job is to get you moved and to get you moved as quickly as possible. Our teams have moving down to a science, and will pack and unpack your belongings far faster – and with more care – than your friends ever could.
Professionals Are Less Likely To Get Injured
When it comes to moving, you're looking at a number of possible injuries. From bruises to muscle pulls or even worse. The last thing you want on your conscience is knowing Henry got that scar on his hand when you were trying to get that desk out the door. Your desk has forever left a mark on Henry, and now you both have to live with it.
Professionals know how to avoid injury, and we don't just mean by lifting with their knees. They come with the proper safety gear to make sure they are as accident-free as possible.
Professionals Keep Track of Everything
Brian was pretty sure he packed up your box of pots and pans but it turns out you're at your new place without a pan or pot in sight. Time to make a run to the local Target we guess.
When you have professionals like Premier handling your move, they don't pack the truck like a group of inebriated friends, they go from room to room, marking each box and piece of furniture off the list as they go. Nothing gets left behind.
Professionals Know How to Drive the Truck
The idea of driving that big moving truck can seem like fun at first, but once you get it out on the street and remember how different it is that your car, it can add a whole new layer of stress. It doesn't handle like your Ford, and you aren't used to the brakes. It can be hard to gauge just how much space there is between you and the other cars on the road. Suddenly you aren't sure the truck will make it through that underpass. How tall is the truck? Uh-oh.
A professional team comes with their truck, and they know the truck well. Not only that, they know the best routes to take around town. They know which underpasses the truck can make it through and which ones it can't. They know which streets allow trucks and which ones don't.
Professionals Will Pay for Damages
Your friends don't mean to, but having them running around your house touching all your stuff can add to the stress of moving. If Sally accidentally breaks that mirror your grandma gave you when she trips over the iPad little Jimmy left on the stairs, that can put a real strain on your friendship with the Callans.
If a professional mover damages your furniture, you can be compensated for the damage and you won't feel a pang of rage every time you see little Billy.
Professionals Will Leave Once the Move is Done
Once you get everything to your new home, there's still a lot that needs to be done. Boxes need unpacking. Beds need making. Relaxation needs relaxing. But after all that lifting and carrying and sweating, your friends want to rest a bit before they head off to their homes. Pizzas are ordered and drinks are served. Who knows when you'll finally get some time to start the unboxing.
Professional movers won't hang around after everything has been taken off the truck and brought into your new home. We know you have a lot more to do and want to take up as little of your time as we can.
Professionals Won't Ask You to Help Them Move
The worst thing about asking your friends to help you move is what happens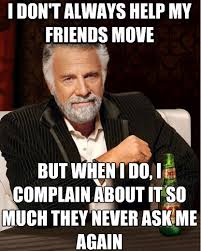 down the road. Sooner or later, Brian will be looking to move, and you can be pretty sure he'll come calling. Suddenly, that lazy Saturday you were looking forward to has turned into a day of heavy lifting.
You won't hear from us after we move your home. At least, you won't get a call from us asking if you can help with another move. It may not seem like a big thing, but if you really think about it there is little worse than getting the dreaded "can you help me move" call.
Now, after going over all of that, is there really a good reason not to hire professionals?
Premier Relocations is licensed and insured, maintains an A+ rating with the Better Business Bureau, and has earned ProMover and Michigan ProMover certification through the American Moving and Storage Association (AMSA). The company annually earns the 'Super Service Award' through Angie's List, for customer satisfaction surveys ranked in the top five percent.
Call Premier Relocations at:


800-863-5161


or request your
Free Estimate for Moving
on our website today!