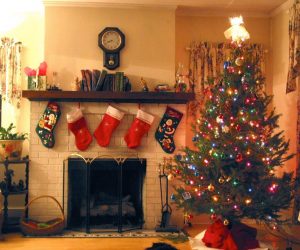 The holiday season is here and your home is looking festive with all your decorations. What goes up, must come down and unfortunately, putting away your decorations is never as fun as putting them up. It's easy to get overwhelmed organizing and packing up your seasonal decor. With our tips, your holiday decorations will be neatly stored away in no time.
Artificial Tree: You may choose to use the original box the tree came in for storage, but after a few years, you may notice the box breaking down. Try a Christmas tree bag or box, there are even some heavy duty bags with wheels to help with larger trees.  Old belts or bungee cords are a great way to cinch the tree to make it a more manageable size to store.
Ornaments: Using the original boxes the ornaments came in is the best way to store them. If that is not possible, you can use egg cartons to keep them safe before placing into larger storage boxes. Additionally, ornament storage boxes can be purchased, which can help to especially protect fragile or glass decorations.
Holiday Lights:  Your first step is to dispose of any lights that are not working properly. Then, you can wrap holiday lights around coffee cans, cardboard pieces, Pringles cans, or a hanger to keep them from becoming a big tangled mess.
Label Boxes: This seems simple enough, but many times this is overlooked. Make sure every box is clearly labeled with the contents. You can really get organized by writing a detailed inventory of everything in that is in the box and number each box.
Store Boxes Strategically: Before boxing and labeling your decorations, think about the order of how you decorate and what items you will need first.  Having the boxes marked will help to locate the items that kick off the holiday. Our office offers a wide range of packing and moving supplies including different size boxes, tape, bubble wrap, and paper should you be in need of any.
We hope these tips will keep your decorations looking good for years to come. Before you know it, you will be pulling the decorations again – and our hope is your previous year's organization has saved you time.