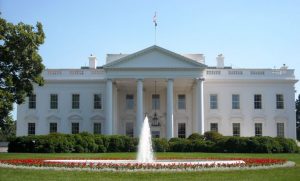 On January 20th, Donald Trump will be inaugurated as the 45th president of the United States. This also means that a new family will move into the White House. If you thought moving your family was complicated, imagine what goes into moving the president! We found some interesting facts on moving the first family, as we celebrate Inauguration Day 2017.
1.  All Moving Takes Place in One Day
The sitting president moves out the same day the president-elect moves in. This is strategically planned to happen while the sitting president and the president-elect are busy with the inauguration ceremonies. Bradley Blakeman, former President George W. Bush's deputy assistant, told Elle Decor that in the span of about six hours, the former president's belongings are moved out, the space is cleaned, repainted, and recarpeted where necessary, and the new president's belongings are moved in and unpacked to the new first family's specifications.
2. The President-Elect Must Cover His Own Moving Expenses
The president-elect must arrange and pay for the transport of all his belongings and furniture. This can either be done out of pocket or through campaign funding. About a week before Inauguration Day, Slate reports that the president-elect's belongings are moved to a White House storage facility in Maryland. Once the president's belongings have crossed the White House threshold, however, the tab is picked up by the government, who also covers move-out expenses.
3. The Sitting President's Belongings Packed Up
White House staff will promptly box up the sitting president and family's belonging. The boxes are then taken to military cargo planes where they will be flown to the family's new residence.
4. The President-Elect Can Redecorate the Oval Office to His Liking
The president-elect has the liberty to customize the Oval Office to his personal liking. Furniture, artwork and even the books on the bookshelves are updated to suit the president's personal taste. Former presidents have even had a new rug designed for the space.
5. Presidential Photo Gallery gets Updated
Outside the Cabinet Room there is a rotating photo gallery of the president, including photos of him meeting with world leaders and allies, reports ABC News. On move-in day, the images are switched out for ones of the new president, more than likely from that day's Inaugural events.
If you are planning a move for your family or business, give us a call for your free estimate. You may not be the President of the United States, but you will feel just as important with how we treat you and your family.