Now that the collection period has come to a close for Thanksgiving on the Mayflower 2014, it is exciting to take in just how generous you all are! While we are counting up the total amount of contributions donated through this event, we at Premier Relocations thought we'd follow up from our last post and give thanks for the many people and organizations who made this event possible.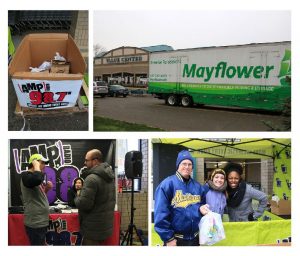 First and foremost, we are grateful for the opportunity to collaborate with sponsors like Gleaners Food Bank of Southeastern Michigan, Value Center Market, Neiman's Family Market, and AMP Radio on 98.7FM. If we are going to make positive change in our communities beyond providing a quality professional moving service, one where we have a connected awareness of needs and an active practice of effective generosity, we know that quality relationships and teamwork are paramount. This teamwork principle is true for making a professional relocation a success and it is also true for everything that goes into Thanksgiving on the Mayflower.
In addition to Neiman's Family Market and various Value Center Markets, Merollis Chevy and Taylor Chevy also served as locations for all-day collection. Did you spot our iconic Mayflower trucks at any of those locations? Or maybe you saw them at Blackwell Ford and Hiller's Markets for targeted collection times? In any case, it would be quite a challenge to collect donations without great places to set up, so we hope you'll join us in thanking these great partners for their hospitality.
Last, but certainly not least, we were fortunate to have onsite sponsors like Faygo, Cricket Wireless, Parkway Chrysler Jeep, and Planet Rock. Each of them provided valuable reach to the event and collection of goods including both dry goods and monetary donations. We can't wait to add to their numbers next year as we grow the effort and aim to help even more families in our communities.
More to come from Thanksgiving on the Mayflower
Stay tuned for the final count and pictures of the drop-off to Gleaners, which will be occurring over the Thanksgiving weekend. Wherever the totals land, we are very thankful for each and every one of you who contributed, raised awareness, and supported the collection efforts. Because of the value you added, less people in our community will be going hungry and that's quite a moving thing to think about.