Ready to pack up your house for a move, but aren't sure where to get started? Do not let all of the details and the long to-do list overwhelm you. Read on for our expert advice on how to pack household items for moving.
If you start the planning process far enough in advance, you are able to save yourself from feeling rushed and overwhelmed. But don't let this time go to waste. Create a packing supplies list, a timeline, and plenty of calendar reminders. This way, nothing fall through the cracks and you are able to feel at ease.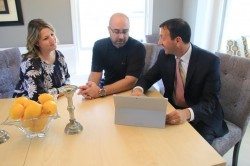 Having a moving estimator take an analysis of your belongings will allow you to receive an accurate estimate of the size of cost of your load. Inviting a moving company representative into your home will help you get the best quote, in turn resulting in a better move.
Once you have an inventory list, start planning how to pack your household items efficiently and effectively.
Packing Fragile Items
To pack fragile items, place soft padding at the bottom and wrap the items individually with paper. To wrap it properly, place the item in the corner of the paper and wrap diagonally, continuously tucking in the overlapping edges. Bundle together 4-6 fragile items, wrapped in another layer of paper, and place them into the box. It is important to add more padding to the top of the box once it is nearly full. Do not add any heavy items to the top of the box, as that will add pressure.
Packing Living Room and Family Room Items
These rooms include items such as heavy books, lamps, draperies, curtains, rugs, small appliances and large furniture. Often these items take up more room in moving truck than what meets the eye. Be sure to pack these items carefully, but make the most of the space of you have in moving boxes. Pack boxes tightly, using any unused space for soft items and non-fragile items.
Packing Bedrooms
The first step in successfully packing bedrooms is to reduce. Often there are clothes in closets that haven't been worn in years. Consider donating these items before your moving estimate. The less you pack up, the less you have to unpack in your new home. Once begin packing the items you are going to keep, be sure to label boxes by bedroom and the contents inside. This will allow your movers know which box belongs where, and helps keep unpacking organized.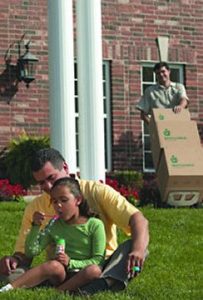 Packing Kitchen Items
To transport food items, make sure all boxes of nonperishable foods are sealed with tape tightly secured in a large container. This prevents any messes during the move, and lets you fill the pantry in your new home without taking a trip to the grocery store on moving day. Take into account the weather during your move – depending on the season, your food could freeze or be subject to warm temperatures.
More Tips on How to Pack Household Items for Moving
For more information on packing household items, watch our packing tip videos for each room of your house or contact Premier today.