It's no secret that we at Premier Relocations take pride in delivering on a local move. While recently doing so, we have also found some answers to important questions: How does a sports team connect with future athletes and future leaders? How does a business go beyond profit margins to become a positive force in the community? How does anyone move freshly-painted stadium fixtures without damaging them? The answer to all of these questions is found in putting a premium on carefully getting there and fulfilling a promise through our service.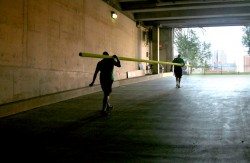 Most recently, when the Detroit Lions donated to Cody High school, within the Detroit Public School system, they came through big and just in time before the regular season of the NFL. The Detroit Lions and Premier Relocations were then able to top off a series of renovations with the contribution of some freshly painted, refurbished goal posts. Of course, this was only the latest example of involvement and assistance that we were fortunate enough to be part of as Premier Relocations and the Detroit Lions have had a long relationship with both the Detroit Public Schools and a great charity partner named Life Remodeled.
After being involved with these partners and the renovation efforts at Cody High School, we had the pleasure of carefully picking up and transporting the donated goal posts. After all, it is our specialty! Moving the posts required a gentle touch to preserve their like-new condition, but, surprisingly, the posts are not as heavy as they look. However, their size did make them a rather unique move and their composition made them quite susceptible to damage from any potential dragging, scraping, and bumping. To mitigate this, we promptly padded them up and carefully delivered them to their new home.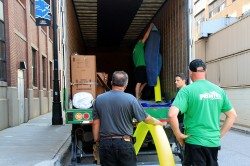 We were happy to commit specialty equipment to the job, too, in the form of a 53ft LG TT with Air-ride (put plainly, it was a particularly big truck with special shock absorption), which is not an option with every relocation company. To get it packed up and loaded right, we provided a crew of movers that are experienced with delivering on a local move of specialty items,  where they have moved everything from massive server rooms to specialized equipment to a local move involving the transport of air conditioning units from rooftops to new locations.

Now that the heavy lifting is done, in the literal sense, we are proud to bring attention to the work we can all do to raise the bar in our community. We are thankful for the great community partners we've had the pleasure to work with and we'll keep working to move our community in the right direction, so as we've lent our specialties and talents to the cause, we encourage all of our readers to do the same. 
Read more about Life Remodeled (and get involved!). 
Read more about Premier Relocations' specialty services.