Continuous improvement is the key to any good business and it is also the means by which we ensure that we are exceeding your expectations when you move with us. Although we take pride in our accomplishments and the recognition we have been given, there is always something to be learned, so here is how we're working toward a better, safer moving experience.
Our Practical Approach to Safer Moving
From standard operating procedures to continued learning and adjustment, here is how Premier Relocations is working to provide a better, safer moving experience for all of our customers.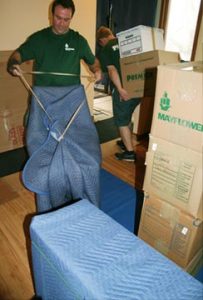 1. Predicating our work on proper planning. In order to ensure safer moving from the very beginning until the very end of the move, the first step for us is to do an great job of sizing up the situation and expectations. We'll make note of the volume of items being moved, items of irregular size or shape, the logistics of moving items through your home, and anything other information you make available to us. This helps our team provide the right crews, the right equipment, the right tools, and all the right resources to make your move a success.
2. Communicating and actively listening. Between our own staff, our crews, our communities, customers, and every interaction with potential customers, we are actively listening — asking questions, speaking from our experience, and staying ready to provide the information you need to make an informed decision. Our team knows that open dialog facilitates safer moving.
3. Techniques to protect our crew, you, and your belongings. We have a long list of ways in which we mitigate, operate, and stay accountable to the goal of providing a safer moving experience. New crew members learn from experienced crew members, we maintain clear paths, we practice trained grips on heavy items, we know when too much is too much without special equipment, we don't hesitate to ask important questions, and we recognize both success and opportunities for improvement. There's much more to add, too, but we just recommend that you check out how our former customers describe their experiences with us — we worked to serve them — and every customer — the best way possible.
If You're Ready for a Better Moving Experience
When working with the Premier Relocations team, you can be assured that we don't cut corners — we wrap them! Just like we do with every doorway and piece of furniture we haul, we take incredible care to think ahead and put ourselves in your shoes so we set expectations properly. 
Click here to read more about what Premier Relocations customers have had to say about our safer moving experience.