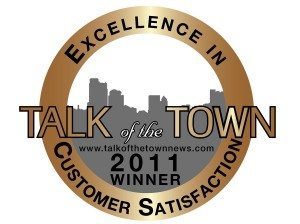 Novi, MI (September 14, 2011): Premier Relocations LLC has been named a recipient of the 2011 Talk of the Award for Excellence in Customer Care, presented by Talk of the Town News, Customer Care News and Celebration Media.  Headquartered in Novi, MI, Premier Relocations specializes in household and office moving, storage, and local distribution of furniture, fixtures and equipment.  They service Oakland, Livingston, Macomb, Washtenaw, and Wayne counties and have additional offices in Grand Rapids, MI and Toledo, OH.
Premier Relocations is an agent of Mayflower Transit, which was founded in 1927 and is one of the nation's oldest and largest van lines.  Mayflower transports household goods, electronic equipment, trade show exhibits and display, works of art, and specialized freight, utilizing a network of 700 affiliated agents throughout the United States and around the world.  Further information about Premier Relocations is available through the company's website at www.premier-mayflower.com.
The award honors companies and professionals that provide excellent customer service, as reported by their customers through no-cost, user review websites. The reviews are analyzed by a team of researchers who calculate a star rating system based on these data, which determines a business' award eligibility.
To determine 2011 award recipients, Celebration Media's dedicated team of researchers spent more than 6,000 hours analyzing data from multiple websites that detailed customer's experiences at organizations across the U.S. and Canada. Among the types of organizations and professionals eligible to receive these awards are hospitals, dentists, accountants, physical therapists, veterinarians, optometrists, insurance, chiropractors, lawyers, financial planners, restaurants, bakeries, event centers, home improvement companies, florists, spas, salons and mortgage companies, in addition to several other categories.
This is the third year Celebration Media, Talk of the Town and Customer Care News have honored companies with its Customer Satisfaction Award for Excellence in Customer Care.
For more information about the award or its sponsors, please contact CMUS and Talk of the Town News at 877-498-6405.