Premier Relocations is recognized by Mayflower Transit for top honors
Premier Relocations, an agent for Mayflower Transit based in Novi, Michigan, recently earned recognition for high achievements in several areas when The UniGroup Family of companies joined together virtually to celebrate the 2020 accomplishments of its agency network. Among the awards presented, Premier earned recognition in the following areas: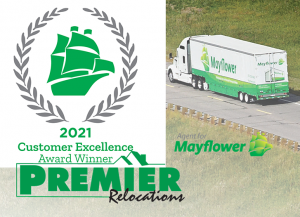 Customer Excellence Awards
Based on customer survey results and van line star ratings, Premier was recognized by Mayflower among the very best in total quality performance.
Mayflower Admiral's Club
Premier Relocations was recognized as the top booker in Mayflower's household goods business segment of government DoD/409 sales.
Agency Sales Achievements
Individual sales honors were presented to members of Premier's sales team for their outstanding sales efforts. Among the award recipients were Fred Glore of Premier's Exhibit and Display division; Rob Thibert of Premier's Office and Industrial division; John Hopkins, named Premier's Household Goods Sales Person of the Year; and Gary Miller and Stephen Supica, also from Premier's Household Goods division.
UniGroup Logistics Sales Achievement
Around the world, members of the UniGroup Logistics network are working to grow business. Premier was awarded as being the top booker and received 1st Place in the Exhibits and Displays division.
Masters Club Inner Circle
The Masters Club is a recognition program highlighting outstanding sales performance. Within Masters Club, a "best of the best" group receives special recognition – the Masters Club Inner Circle. Fred Glore and John Hopkins earned recognition and entry into the Masters Club; Glore earned additional entry into the Masters Club Inner Circle.
The awards and recognition earned clearly distinguishes Premier Relocations among the best of the best of all moving and storage companies with consistent, top-quality performance and sustained quality. "The cornerstone of Premier Relocations is our team," noted Kirk Hensler, Senior Vice President. "I am most proud of our ability to consistently deliver high-quality service, and that we continue to be recognized by our customers year after year. These awards are in recognition of a very special team of people."
###
Premier Relocations is an established, professional, full-service moving and warehouse storage company headquartered in Novi, Michigan. As one of the largest Mayflower Transit agents in the United States, Premier provides local, intrastate and interstate moves, including household, corporate, and commercial relocations; secure warehouse facilities for short-to-long-term storage of goods; and global tradeshow logistics, shipping and storage. Premier's executive management team holds more than a century of combined moving industry experience, with awards and accolades in sales, customer service, fleet safety, hauling, operating efficiencies, and performance excellence.