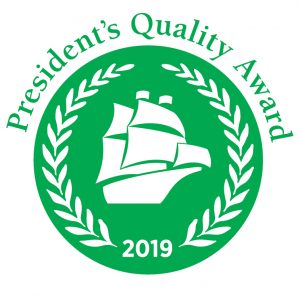 We are excited to announce that Premier was honored with the 2019 Mayflower President's Quality Award at the UniGroup Shareholders Meeting!
The President's Quality Award is given to one Mayflower agent that has the overall highest quality based on customer surveys and experiences. Because there is only one winner in this category of over 250 Mayflower agents, this is the most highly coveted award given out annually by UniGroup/Mayflower Transit corporate. 
As well as receiving the Mayflower President's Quality Award, Premier was also honored with the Customer Choice Award, and the Performance Excellence Award.
Premier has been servicing families and businesses in the Michigan area and beyond since 2002, and to have the hard work of our excellent team be recognized in this way is a wonderful achievement. To say we couldn't be prouder of our team would be an understatement.
It is Premier's philosophy that by focusing on treating every customer and their belongings with respect and care. We know that our excellent customer service, and the hard work of our delivery crews, is what makes that possible. Without them, and the pride they take in their work, Premier would not be as great as it is. Whether it is the front door of a customer's home or at a logistics customer's loading dock, we ensure that our team will efficiently handle every aspect of the move and safely deliver your belongings.
Presenting the award, UniGroup Director of Customer Experience Sonja Pullaro praised the team, saying "The cornerstone of Premier Relocations is its team. From their move coordinators to the delivery crew, every care is taken to provide a seamless moving experience for their customers. They expect nothing less than complete customer satisfaction for each and every customer."
Kirk Hensler, Senior Vice President Operations was clear on what it is that makes Premier stand out, "Growth can be very exciting and scary at the same time. Receiving this award shows how smartly, and how diligently, we have worked together to manage our growth.
Growth without quality often fails. I am most proud of our growth because we have consistently delivered our high-quality level of service and continued to be recognized by our customers year after year, and our business continues to grow at a rapid pace.
 Our award-winning quality and our commitment to service both our household and our logistic/trade show customers are two keys that have allowed us to grow to where we are today. This award is in recognition of a very special team of people."
Hensler went on to explain what it means to his team to win the President's Quality Award, "Receiving this award is a demonstration of our entire team being focused on delivering quality to our customers, from the very first phone call/email to our sales team, our move coordinators, our operations team and to each and every mover and driver we work with. There are a lot of amazing Mayflower agents around the country who have recieved this award and excel in quality so being the recipient of this award is the best feeling in the world. We talk about quality every day and while we are not perfect, it is our goal to be perfect in every move we service."
Of course, we are not the kind of company to rest on our laurels, and we know that everyone here will strive to become an even better service to our customers.
Onward and upward!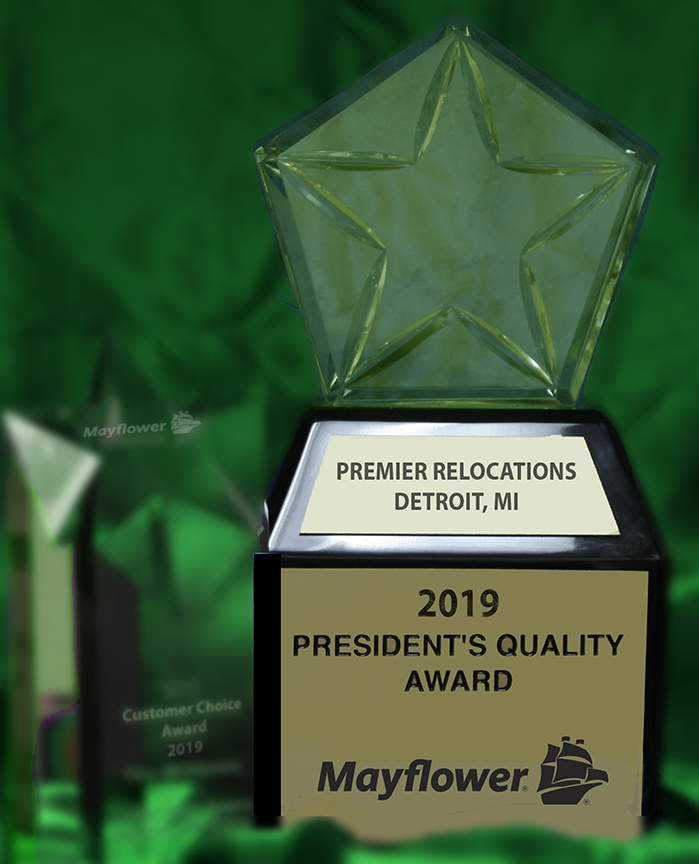 Premier Relocations is licensed and insured, maintains an A+ rating with the Better Business Bureau, and has earned ProMover and Michigan ProMover certification through the American Moving and Storage Association (AMSA). The company annually earns the 'Super Service Award' through Angie's List, for customer satisfaction surveys ranked in the top five percent.
Call Premier Relocations at:
800-863-5161
or request your
Free Estimate for Moving
on our website today!