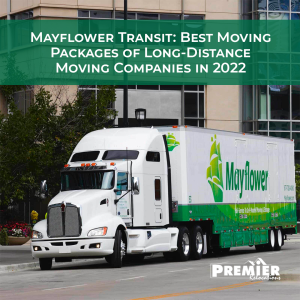 Mayflower Transit has been evaluated by Bob Vila to have the Best Moving Packages of Long-Distance Moving Companies in 2022!
We know that as exciting as moving can be, it can also be an extreme stress. So many things need to be accomplished in a short amount of time, yet we're anxious to get things set up just right in the new home before we've even finished packing! It seems like the checklist is endless when packing and loading for a move, it's an exhausting process for anyone. But if you're moving across the country, you have the added stress of a long drive ahead of you. Avoid making a move harder on yourself, let Mayflower help!
Mayflower Transit strives to take the load off your shoulders during a long-distance move, let us handle the more challenging aspects. We are qualified and licensed to pack and move your belongings across the nation. 
Why Mayflower Transit was chosen for Best Moving Packages in 2022:
"Mayflower Transit has over 90 years of experience moving goods nationally and internationally, and customizable moving packages make this company a top contender when it comes to interstate movers.
Mayflower has a long history in the industry. Customers appreciate the online portal that allows them to see checklists, mover contact information, and tracking all in one place. Though Mayflower's customer service is readily available by phone, email, or chat, it's helpful to find information through the customer portal.
Mayflower Transit offers auto transport and several other customizable moving services to help customers have a stress-free experience during their move. Customers can leave the entire packing, loading, hauling, and unpacking process to Mayflower movers if they want a totally hands-off move. Customers who choose to pack on their own will need to purchase their own moving supplies, but Mayflower's standout service offsets this inconvenience. And as a bonus, Mayflower gives back to the community by helping those who are moving donate their extra food to the Move for Hunger charity.
Specs
Service area: 50 states, international
Auto transport: Yes
Cancellation policy: Up to 24 hours before the move
Deposit required: No
Customer service: Phone, email, live chat
Pros
Customizable long-distance moving service bundles available
MyMayflower online portal puts checklists, mover contacts, and tracking in one convenient place
Move for Hunger partnership helps customers donate food before a move
Cons
Customers are required to separately purchase moving supplies"
– Bob Vila