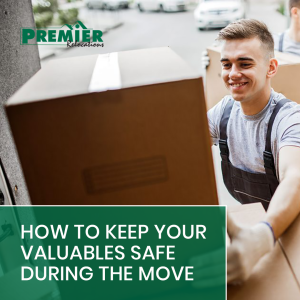 Moving is one of the most stressful things we experience in life, as well as being a very time-consuming situation. Having a reliable and experienced moving company like Premier Relocations can help turn a stressful move into a worry-free adventure.
Jewelry
It's ideal to keep your jewelry with you while moving to avoid precious items getting lost in the truck or damaged in handling. Consider purchasing a jewelry roll if you have a smaller jewelry collection to keep all items safe. For bigger collections, to prevent necklace tangles, gold getting scratched, etc. we recommend that you wrap each item individually in tissue paper then seal into sandwich baggies. This way you can label each item and keep things safe while organized.
Important Documentation
Documents like birth certificates, deeds, passports and tax records are all vital to keep track of during a move. Moving documentation like this is very worrisome since sensitive personal information is at risk if the item is lost in a move. Premier Relocations strongly suggests that you keep these documents together, and safe, on your person during a move. Consider purchasing a locking document bag or box to keep all of your valuable documents safe in one spot next time you move.
Electronic Devices
Moving electronic devices like washing machines, desktop computers, and televisions can be a hassle. These types of items are very large, usually heavy, and are difficult to move/easily breakable if not handled properly. Using a reliable and experienced moving company like Premier Relocations makes this easy and worry-free for your move. All you need to do is tell our movers which boxes are electronic items so they can get those items moved in first. We suggest that you have a professional service your electronics a week before the move. And at least 24 hours before the move we recommend unplugging all electronic devices so they can cool down before being handled.
When you select Premier as your mover of choice, you can depend on an experienced, licensed and insured team of professionals who will provide you with respect, excellent services, and tremendous peace of mind. From the moment Premier arrives at your front door, to the safe delivery of your shipment at destination, our professional relocation teams will efficiently handle every aspect of your move.