98.7 AMP Radio hosts will be collecting food for Gleaners Community Food Bank for the holidays, loading up Mayflower moving trucks with live broadcasts starting at 6 a.m. to 7 p.m. starting Thursday, Nov. 14 through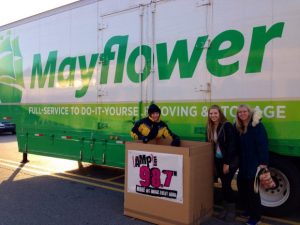 Sunday, Nov. 17.  We are calling it Thanksgiving on the Mayflower.  You can drop off at the following locations: Value Center Market, 27428 Six Mile Road, Livonia, on November 14; Value Center Market, 37155 Harper Ave, Clinton Twp, on November 15th; Value Center Market, 1485 W Fourteen Mile Road, Madison Heights, MI 48071 on Nov. 16 and Neiman's Family Market, 7121 Dixie Hwy., Clarkson, MI 48346 on November 17.
Joining up with Gleaners Community Food Bank, on air personalities, including 98.7 AMPS's morning host Coop, midday host Roxanne and afternoon drive host Slacker will broadcast their shows live from various food collection points around metro Detroit. Non-perishable food items will be sent to Gleaners Community Food Bank, where low-income families will be able to get the necessary items to have a delicious holiday dinner. 98.7 AMP Radio has also teamed up with Premier Relocations who supply Mayflower moving trucks, so all food will be loaded on to the trucks before heading to Gleaners.